How to build a strong ecosystem?
On the occasion of the Act for Maximizing Ecosystems course, today's actors explain to a few participants how their professional ecosystem works and how it is similar to the natural ecosystem.
How to surround yourself well thanks to the professional ecosystem is the big question that was answered during this interactive tour on April 14 at Schoolab.' premises.
The natural ecosystem and its similarities with the professional ecosystem
The journey begins with an intervention by Katarina Dear, founder of Nature & Us. Working with many scientific organizations and citizens, Katarina Dear has set herself the challenge of reducing the impacts of climate change and pollution by bringing nature back to the city. Each problem has its solution:
Climate change: reducing CO² emissions
Air, soil and water pollution: cleaning up different environments
Biodiversity loss: reintroducing natural ecosystems
Reconnection to nature : educating and raising awareness
The relationship with the city: beautifying it through reconnection to nature
Nature & Us aims to reduce these environmental issues. It is a company that aims to repopulate our streets with its natural ecosystems, in particular via a project of vegetated rafts in Paris. 
From inspiration to mission
The mission taken up by Nature & Us was first of all to populate the Canal Saint Martin with natural ecosystems. Made from recyclable materials such as plastic, metal and coconut fibers, Nature & Us offers green rafts with the aim of repopulating the city at the plant and animal level!
The idea of the raft came to Katarina Dear while walking in Paris, along the Canal Saint Martin: improving the quality of the water and what surrounds the canal would be the objectives of this vegetated raft. Katarina Dear concludes by explaining that she was inspired by biomimicry through a holistic, plural and collaborative approach. 
From the natural ecosystem to the professional ecosystem
As in nature, an ecosystem needs several actors to function. Nature & Us also has its own professional ecosystem, which helps it to realize its projects. Scientific experts and companies help Nature & Us to make ecological rafts and associations, institutions and citizens help the company to set everything up. The city of Paris also having its role to play, the goal is to go further than the Canal St Martin thanks to the help of the various actors of the Katarina Dear ecosystem.
"Historically, man has always been inspired by nature in different ways."
This is followed by a question and answer session with the host Marjorie from Schoolab and the conference participants in order to broaden the subject a little, particularly on a potential imbalance due to natural selection or on the lack of space, which is ultimately not a problem.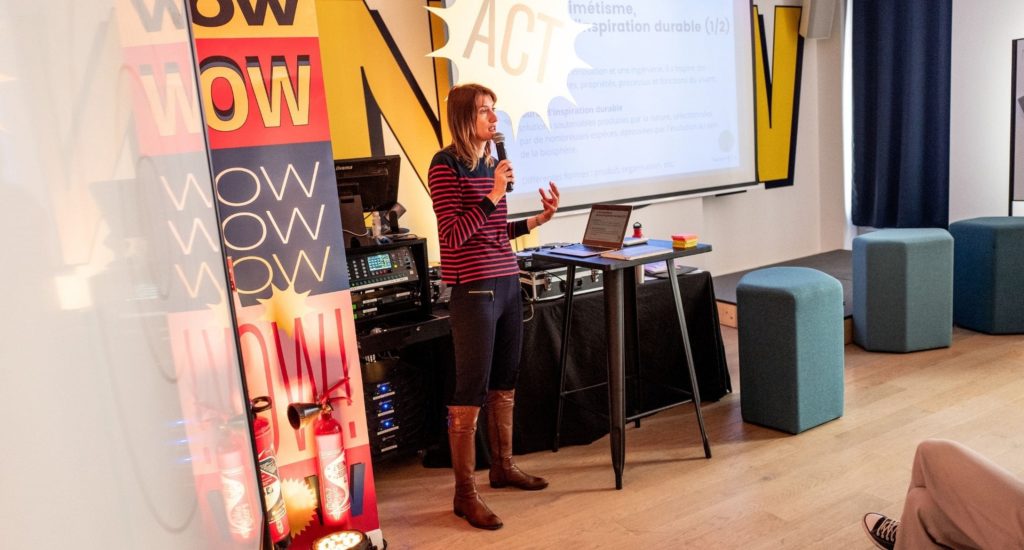 The professional ecosystem: round table
Marjorie from Schoolab welcomes three guests who have been part of the Schoolab community: Pauline Jacquemard, SEMMARIS CSR Director, Khadija Salomon, founder of Le Falaf, Rungis&Co incubator and Aurel Naïm, 5th year student at Strate, design school.
What is an ecosystem?
Pauline Jacquemard directly defines an ecosystem as a concentration of actors offering services that help each other to achieve a common goal and cites the Rungis market as an example.
Aurel Naïm defines the professional ecosystem as all the actors taken into account in the creation of a service and a product. It makes the link with the natural ecosystem, where we discover how all the actors act among themselves. 
"Ça s'oppose à une vision où on crée un objet pour un utilisateur sans faire attention à ce qu'il y a autour de lui. Créer pour un écosystème, c'est prendre en compte tout ce qu'il y a autour."
Khadija Salomon believes that without an ecosystem, there would not be as much professional achievement. She can also confirm this thanks to the success of her many projects!
We then turn our attention to the Rungis & Co incubator and more specifically to Semmaris, the company where Pauline Jacquemard works. Participants learn that Rungis & Co's goals are to ask themselves who the customers of tomorrow are and how to create the services and businesses of tomorrow. The incubator aims to find Semmaris' customers of tomorrow who will be able to provide the innovative solutions that accompany the environmental transition of the Rungis market. 
"La création de Rungis u0026 Co a été faite pour rassembler au sein d'un même lieu et de manière concentrée et accompagnée un certain nombre d'idées d'activités qui demain répondront aux besoins des entreprises et du consommateur final."
Aurel Naïm then explains how he brilliantly transformed a brief into an innovative project. The basic brief was to make a video that would show children arriving at a home how everything goes. Thinking that this was a rather inhumane way of explaining things for refugee children, he decided to create pictograms so that educators could accompany the children. The tool helps the educator to inform the young person so that he can be accompanied.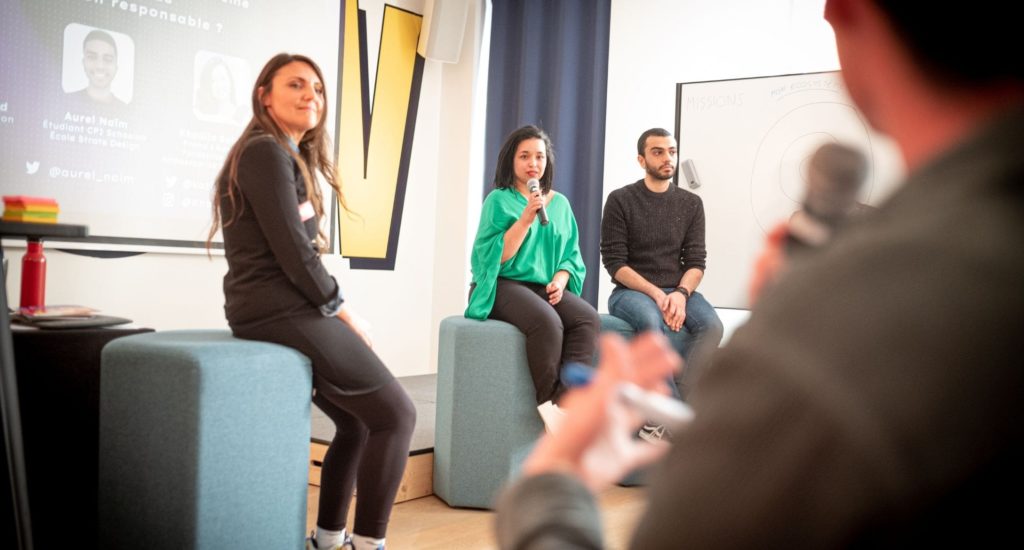 What are the success factors for the ecosystem?
We learn that leadership and humility are important to get things done. You need an entrepreneurial mindset, use the test & learn. According to Khadija Salomon, the goal is to make the actors work together and that it is necessary to structure the exchanges. 
"Ce qui ne fonctionne pas, c'est d'isoler les gens qui sont ensemble, ensemble lorsqu'on parle de diversité. C'est le meilleur moyen de faire sentir ces personnes différentes."
The conference concludes with a workshop that will put all participants to the test, who will have to create together their ideal professional ecosystem. 
The result of this event is that participants were able to better understand the nuances of a professional ecosystem and how to build their own in a sustainable and solid way.