Schoolab presents its "INJECT" digital platform, which is designed to manage white label innovation programmes and is 100% customisable. Inject (Schoolab) is a unique solution for managing your innovation processes, whether that be communicating, collecting innovative ideas, identifying talent, engaging your community, supporting projects or monitoring their progress. Inject offers a collaborative digital experience to over 15,000 members of our ecosystem.
3 different features: a multitude of possibilities
Communication and call for applications
Creation of a mini site to present the program, application form, community votes, selection process of the Jury, etc.
Collaborative space and support
News feed, employee directory, events calendar, project portfolio, team workspace, step-by-step path, access to resources, deliverable repository, and mentor follow-ups.
Piloting and analysis
Dashboard, data analysis and statistics of team progress, management of evaluation sessions, coordination of the mentorship community.
schoolab inject
Companies that trust Schoolab
Collaborative innovation spaces
DIgital Platform
Program space
The digital platform offers an intuitive and engaging user experience. Thanks to a web app that's 100% customized to your graphic design, you can present your strategic objectives and attract bold and innovative projects. Engage your community in a participatory experience, giving members the opportunity to vote for the most compelling projects.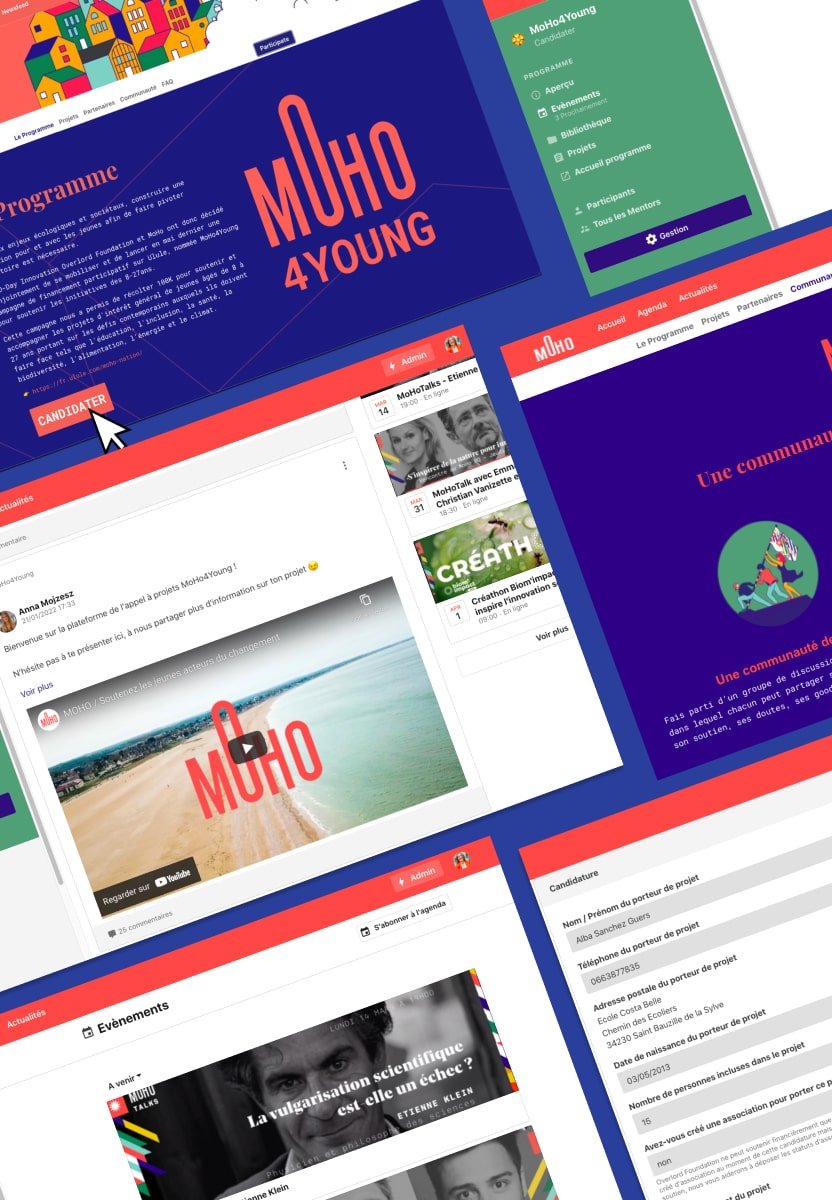 Digital platform
Project space
Engage your community on the digital platform with an events calendar, inspirational news feed, integrated chat, and a library of key resources. Accompany projects and help them create value. Thanks to a step-by-step flow of resources and deliverables, projects are continuously pushed into action.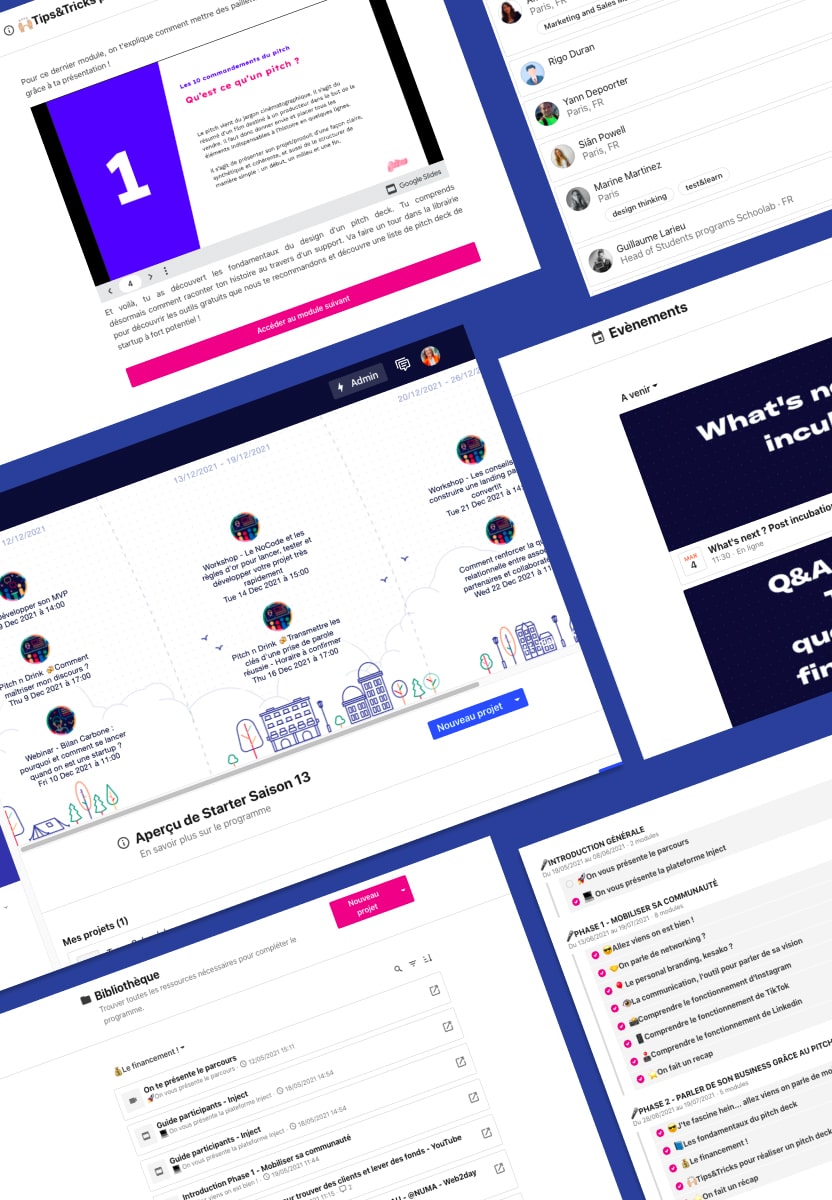 Digital Platform
Piloting space
Track project progress and engagement in real-time. With a dedicated dashboard, you can configure and create experiences tailored to everyone: from the jury, to the mentors and participants. A dedicated team will help you get started with the digital platform – any setup or configuration issues will no longer be a problem for you.
DIgital Platform
Jury space
Organize jury sessions at different times during the program. By opting to use the digital platform, the selection process of participants is facilitated for:
– Scorecards.
– Weighted evaluations.
– Automatic ranking.
Nothing is left to chance. Allow participants to get feedback automatically at the end of the evaluation session.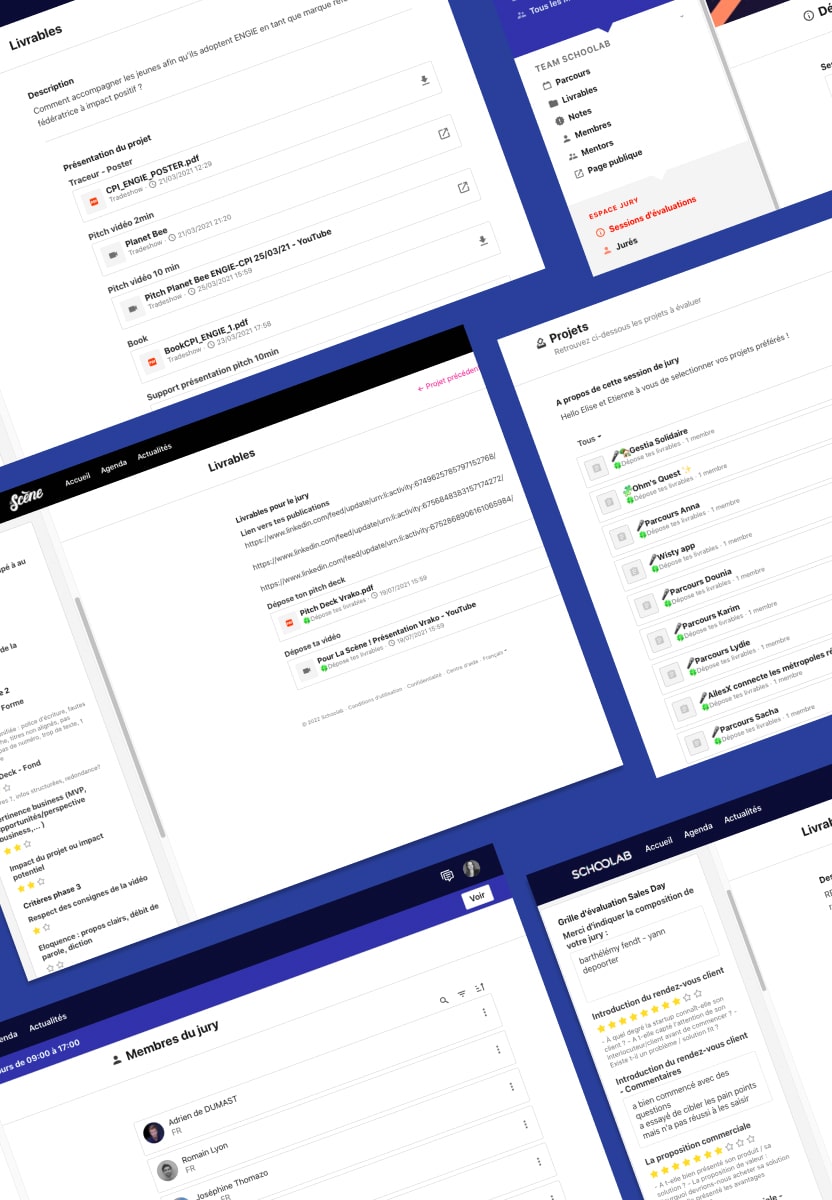 Digital Platform
Mentor space
Give your mentors a seamless experience. The digital platform includes a dedicated space for the mentor community that provides a clear overview of the project's progress. Communication between mentors and the team is enhanced through a simple chat/video system, as well as the possibility to book coaching sessions. Mentors encourage participants to improve by providing feedback and a to-do list at each stage of the programme.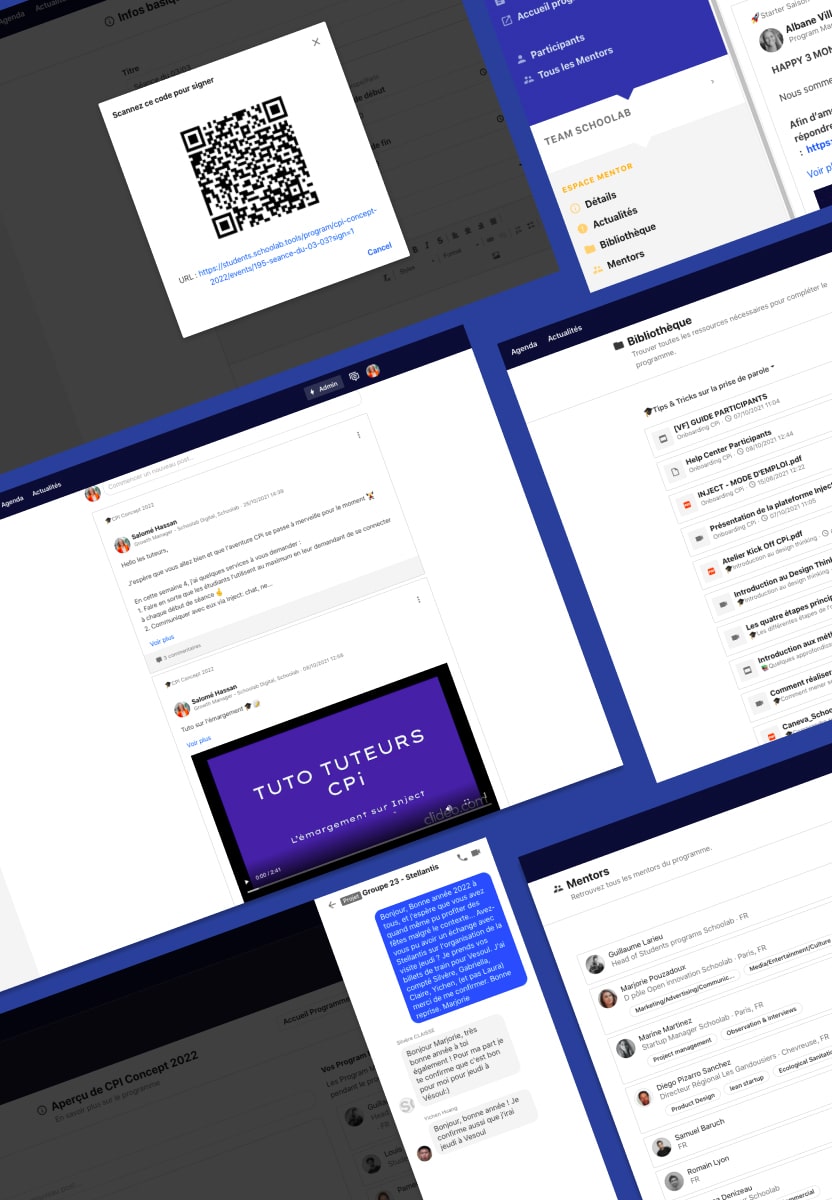 Schoolab inject
Presentation of Schoolab Inject: the collaborative digital platform
A collaborative French digital platform, available as a white label and compliant with the IT requirements of large companies: dedicated infrastructure, high-level security, and data protection (GDPR).
Schoolab inject
Features that make a difference
Multi-devices
Access your platform from all your devices (computer, tablet, and smartphone) thanks to a responsive web-app.
Multilingual
Translate interfaces and content manually or automatically.
Security
Simple and secure SSO access. Data hosted in Europe. Audited and RGPD compliant software.
Dashboard
Export or track key indicators to measure engagement in real-time, according to your predefined criteria (by type of person, location, sector, city, country).
Newsletters
Schedule emails and enable automatic notifications to boost participant engagement.
Selection
Segmentation of projects by jury session. Configuration of the number of private sessions, evaluation forms, and public votes.
Schoolab Inject digital platform: proposed formats
OPEN INNOVATION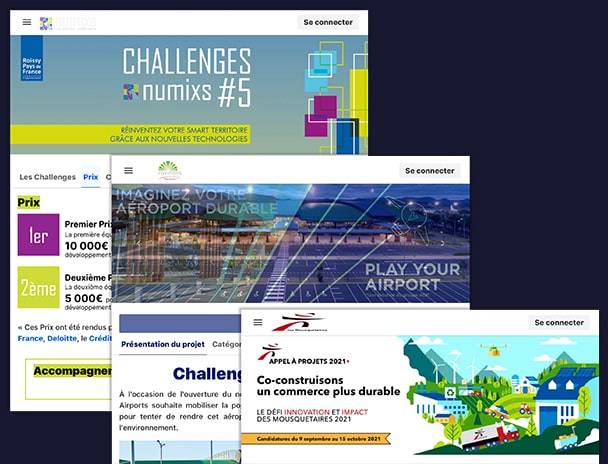 The digital platform landing page of the Open Innovation challenge features:
The objectives of the Open Innovation Challenge
The schedule
The partners
The competition rules
The submissions from students, start-ups, and companies are collaborative.
The project teams are accompanied from the initial selection process right to the end of the competition.
HACKATHON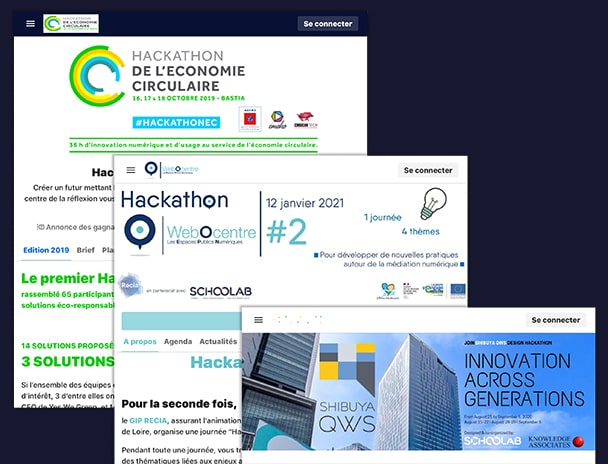 Whether they are face-to-face, remote, or hybrid, participants form their teams online. The digital platform provides direct access to key information about the event:
Briefing
Prizes
Partners
Rules and regulations
Agenda
Deliverables
Resources
A roster of coaches organized by expertise
INCUBATOR & ACCELERATOR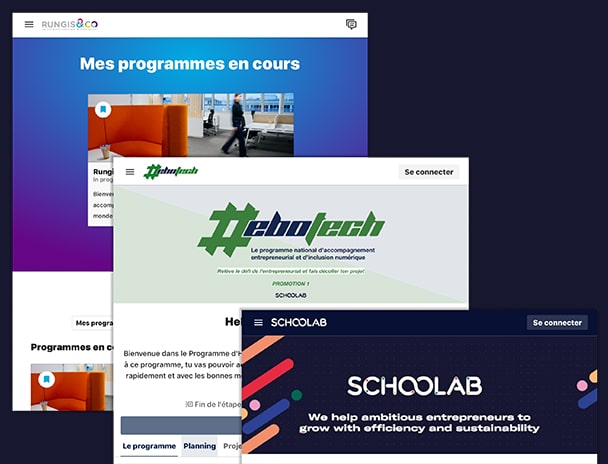 Incubates are connected with experts and mentors, and exchange ideas with other teams working on other projects. Users have access to online coaching, promotional events and can take action by completing the deliverables on the program modules.
WORKSHOPS, TRAINING & COMMUNITY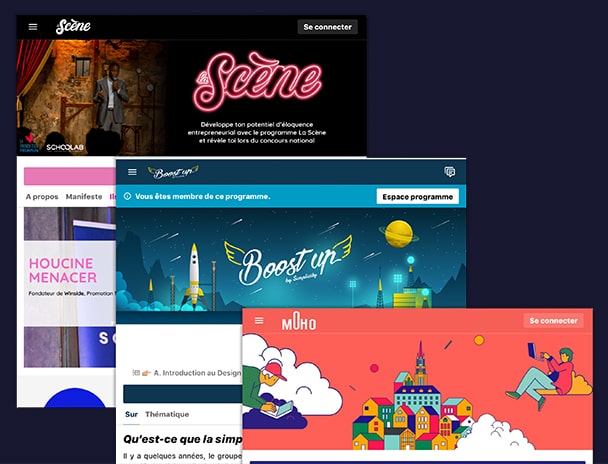 The community of innovators can engage in workshops and training sessions on the digital platform. Online content and replay are centralized. Users of the digital platform contribute to discussion threads, share best practices and provide feedback to their peers.
FAQ
Frequently asked questions
No, there is no user limit on the digital platform. The price changes according to the number of users, however.

Yes, it is possible to access the digital platform from a phone, tablet, or computer.

Absolutely. Our goal is that you can take advantage of all the features available on the digital platform. For this reason, the access price to the digital platform includes a training session.

Whether it's an Open Innovation Challenge, a Hackathon, training, LEx or an incubator, the platform is not limited when it comes to programs. It is a customizable service offering designed to meet your business needs.

Yes, it is possible to create an interface between the digital platform and the company's IT department.

Yes, the services available on the Schoolab digital platform include the option to automatically create certificates of achievement for your workshops/events.

Within an inspiring ecosystem, the use of an Open Innovation platform enables users to benefit from powerful technologies. In concrete terms, the Open Innovation platform boosts a company's strategy to respond to the challenge. The numerous services and technological tools available facilitate the management of online activity for all employees.

Each format offered on the Schoolab digital platform is an exclusive and unique design. It is possible to combine several formats. The price to access the digital platform varies, however, according to the number of formats selected.

Yes, a single-user account allows you to log in to multiple digital devices at the same time. Our digital platform is designed to provide a convenient and intuitive user experience.

The digital platform is designed to be used in French and English.
Inject : What are the advantages of a digital platform?
In general, digital platforms have the main advantage of assisting companies with the development of better customer experience. Online digital platforms also allow companies to engage in digital transformation (digital customer journey, logistics optimization for business processes, digitization of a CSR program) in an efficient way.
But that's not all. Digital platforms also frequently concentrate a series of tools and services available in web and mobile versions to make entrepreneurial projects progress more easily. The use of a collaborative platform is a great advantage for any company that wants to create a successful ecosystem.
In this way, working with your teams on the development of new solutions (business, marketing, etc.) becomes quick and easy. It is also possible to visualize the progress of the participants at each step of the process. In other words, digital platforms allow each user to work and collaborate in real-time within the same ecosystem.
In this context, the company can obtain better productivity and significantly save time. For the development of innovative products, this time saved is a solution that makes all the difference. The Inject digital platform concentrates users' actions within an infrastructure that is designed to meet their needs. In order to develop an Open Innovation strategy, it is essential to respond to the expectations of each collaborator in a short time.
Digital Platform Inject : Key points to remember
The Inject digital platform brings together customized and practical tools that allow users to join a community focused on collaborative innovation. In addition, Inject offers a powerful global user experience to facilitate communication throughout the program.
The Inject digital platform has an international team dedicated to assisting and supporting programs 24/7, from installation to follow-up. It is possible to accumulate up to 5 types of user experiences to communicate, inspire, and collaborate through the spaces of this cooperative platform.
Accumulate up to 5 types of user experiences:
Collaborative workspace
        User experience: the benefits
Program space

Presentation of key information about the program and strategic objectives.
Web application 100% customizable to your graphic design.
Create an application form or a request for input.
Selection of projects and candidates by a jury or a community vote.

Project space

To get inspired: library of key content such as slides, canvas, videos, links, pdfs, etc.
To interact: news feed, integrated chat, events calendar, etc.
To take action: a roadmap of deliverables, instructions, and resources.
Contact the mentors and managers of your program.

Management space

Coordinate the teams that collaborate in the program.
Configuration of project support and program space (sourcing).
Access to a section dedicated to KPIs and statistics to analyze the progress of teams and their engagement in real-time.
Creation of user experiences and access to all stakeholders: members, mentors, and juries.

Mentor space

Project progress is accurately visualized throughout the course.
Visio/chat: display office hours to allow participants and mentors to communicate with ease.
News feeds for exchanges with mentors and between mentors.
Transmission of to-do lists and feedback at each stage of the program.

Jury space

Jury sessions can be organized throughout the program.
Simplification of the selection process: automatic ranking, scorecard, and weighted evaluations.
Key information and project deliverables can be visualized: videos, pitch desk, etc.
Sending feedback to participants at the end of the evaluation session.
In the end, joining the Inject digital platform means choosing to go further in your innovation projects. Want to know more or get a demo? Contact us to receive your own customized set of opportunities.