Doing business together
Is your local cafe or open space no longer enough for you?
Do you want to work in a stimulating and productive environment?
It's no secret that entrepreneurship and innovation are daily challenges. One of the keys to success lies in collaboration: not remaining isolated, and meeting different profiles.
This is what Schoolab is all about: joining an extremely diverse community of entrepreneurs, in a setting that encourages the development of social ties.
Dedicated office in Saint-Lazare:
Visit the Schoolab Innovation Studio and meet our team. This is your chance to tell us about your needs and create your own personalized offer.
From 400 euros ht/month/workstation in open space and from 600 euros ht/month/workstation in closed office.
Locations
Schoolab coworking: what is it?
For over 10 years, Schoolab has brought together freelancers, large corporations, entrepreneurs, and students around its startups and innovation programs.
Located in Paris in the Saint-Lazare district, our premises are dedicated to the collaboration between startups, researchers, large groups, freelancers, and students…
Discover our workspace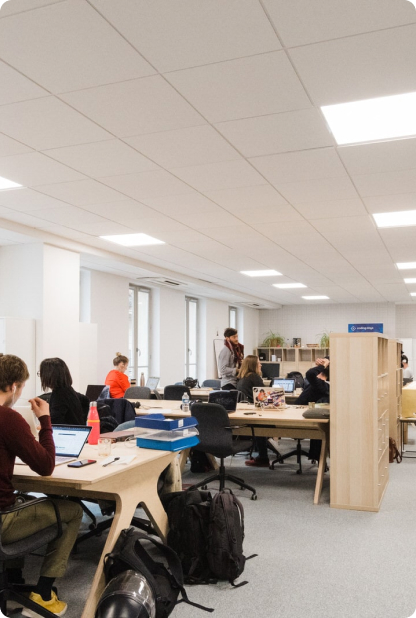 "We met all sorts of profiles. I was surprised by the diversity of profiles that come together: entrepreneurs, students, executives,... There really is a spirit of collaboration."
"We were able to find customers at Schoolab. We have been residents at Schoolab for several years. We appreciated the Office Manager's help in connecting us with the right people to find clients in the ecosystem."
Founder of Label experience
Schoolbar
A dedicated bar for your coffee and lunch.
Wifi & Comfort
Enjoy a fast Internet connection to work comfortably.
Clients and partners
Your dedicated contacts have the priority of integrating you into our community.
Central location
Easy access by metro and RER for your clients and employees. Take advantage of our Premium addresses.
No commitment
Total flexibility with our Coworking offer.
Events
Training, events, conferences, and meetings between residents.
Services
Training, events, conferences, and meetings between residents.
Meeting rooms
Meeting rooms and spaces in the Schoolab café for your meetings or informal gatherings.
Dedicated personnel
Our Office Managers are dedicated to helping you.
Set up in the heart of Paris in a district on the move
Saint-Lazare Schoolab Innovation Studio: located in the 9th arrondissement, our Saint-Lazare campus offers more than 2,000m2 of residential workstations and event spaces. Close to the Saint-Lazare train station (less than 5 minutes by foot), the location is accessible and open.
Additionally, the workspaces include access to the Schoolbar, a friendly restaurant where employees, startups, and entrepreneurs from all walks of life can meet. Schoolab offers you the opportunity to innovate on a daily basis on your professional project and to make it evolve, through meetings, social events, and training.
Resident Testimonial: "Between training, happy hours, and wellness activities, there's plenty to eat, drink and do at Schoolab."
Resident Testimonial: "The team is responsive and warm, while remaining very professional."
FAQ
Frequently Asked Questions
Schoolab's coworking spaces are aimed at any worker or startup who wants to take advantage of an inspiring shared workspace to get away from their usual work environment. Schoolab's coworking spaces also allow you to expand your network thanks to the diversity of the resident workers' profiles (startups, entrepreneurs, students, etc.).

To ensure the availability of the coworking space on the desired dates, the earlier the better. Ideally, it is recommended to reserve the coworking space at Schoolab 30 days in advance.

To reserve a workspace, you must be a resident of Schoolab. To reserve a workspace, the reservation request must be made via the contact form.