180
startups supported per year.
300
coaches and experts within our community.
Starter is a 100% digital program that helps entrepreneurs go from an MVP to a sustainable business, with a real Product-Market-Fit.
The next promotion dates will be out soon.
Starter
Summary of the program for innovative startups
Know your market
Create a persona
Find early-adopters
Build traction to begin validating the concept

---

Develop the first version of your product with your users
Create a plan of action
Find your beta testers
Define a clear value proposition in order to attract your first customers

---

Implement a prospecting strategy using Growth Hacking techniques
Learn how to sell your product to accelerate your sales

Learn growth marketing techniques
Build a strong brand image to increase your acquisition channels

---

Set up a financial strategy
Discover the financing possibilities according to the complexity of your project
Review of your vision, deck and pitch
Access to our Roadshow management tool
Feedback from entrepreneurs who have also raised funds
Q&A sessions with investors
Workshop with experts (legal, financial, and fundraisers)
Networking with key partners
Networking with investors during the Roadshow

---
+70h
of training content.
+6
thematic workshops/month.
+20
individual meetings proposed by an expert/month.
The Starter program is accredited by:
Starter
Alumni talk about Schoolab
"As a Solo entrepreneur, loneliness can sometimes be felt. By participating in the Starter program, I found myself with a lot of energy around me: incubates + coach + top Schoolab team. In addition, the techniques, tools and contacts of Schoolab saved me time. And time is $$$! "
Discover on LinkedIn
"Great team, a lot of benevolence, relevant connections that allow us to accelerate on subjects... The work with our coach was really a meeting full of kindness that allowed us to structure our approach and to ask ourselves the right questions to start a serene growth. The strongest point was precisely this mental support and open-mindedness."
Discover on LinkedIn
Starter Program
Product, sales, marketing, financing, legal
Access to a community of over 1000 entrepreneurs, alumni and experts.
6 months of training leading to a certification, eligible for the CPF.
1h/month individual coaching.
Daily accompaniment by the program referent.
+70h of training content.
+6 thematic workshops/month led by an expert.
+40 individual meetings per month, proposed by an expert in a specific field.
2 sessions/month of collective intelligence between entrepreneurs.

+10 000 euros saved on many softwares used by startups.

Networking with investors.
Exceptional discount at WeWork coworking spaces.
Accompaniment & coaching for fundraising.
Networking with entrepreneurs who have raised money.
Participation in the Demo Day (pitch your startup to investors).
STARTER PROGRAM on inject
Accelerate your community's projects with Schoolab's digital platform
Applications
Public page presenting the program. Customizable participant registration and project submission forms.
Communication
News board. Scheduling of newsletters. Automatic notifications and reminders.
Selection
Jury evaluation session (scorecard). Public voting (likes).
Courses & Resources
A structured collaborative workspace. Modules with deliverables repository. Resource library.
Coaching
Setting up a mentor relationship. Coaching session reporting. Integrated video and chat.
Control
Content management: rights and access. Real-time tracking of engagement. Deliverable statistics and Net Promoter Score.
A collaborative digital platform, available in white label and compliant with the IT requirements of large companies: dedicated infrastructure, high-level of security, and data protection (GDPR).
Starter Program
The stakeholders
Funding you Starter program
The price for Starter : 2000 euros TTC per project or 2200 euros via CPF.
As a training organization, it is possible to finance all or part of your support with your Personal Training Account (CPF). To do so, you just have to subscribe directly online on the CPF platform.
Our team advises entrepreneurs in their administrative procedures and in the constitution of their files to benefit from the CPF financing.
STARTER
Slack Community
Be able to exchange with our community via our internal messaging system to help each other, ask for advice and recommendations, share good tools and best practices:
More than 1700 members: 400 active every week.
450,962 messages sent: 9,648 in the last 30 days.
More than 40 thematic discussion channels.
Join the Slack community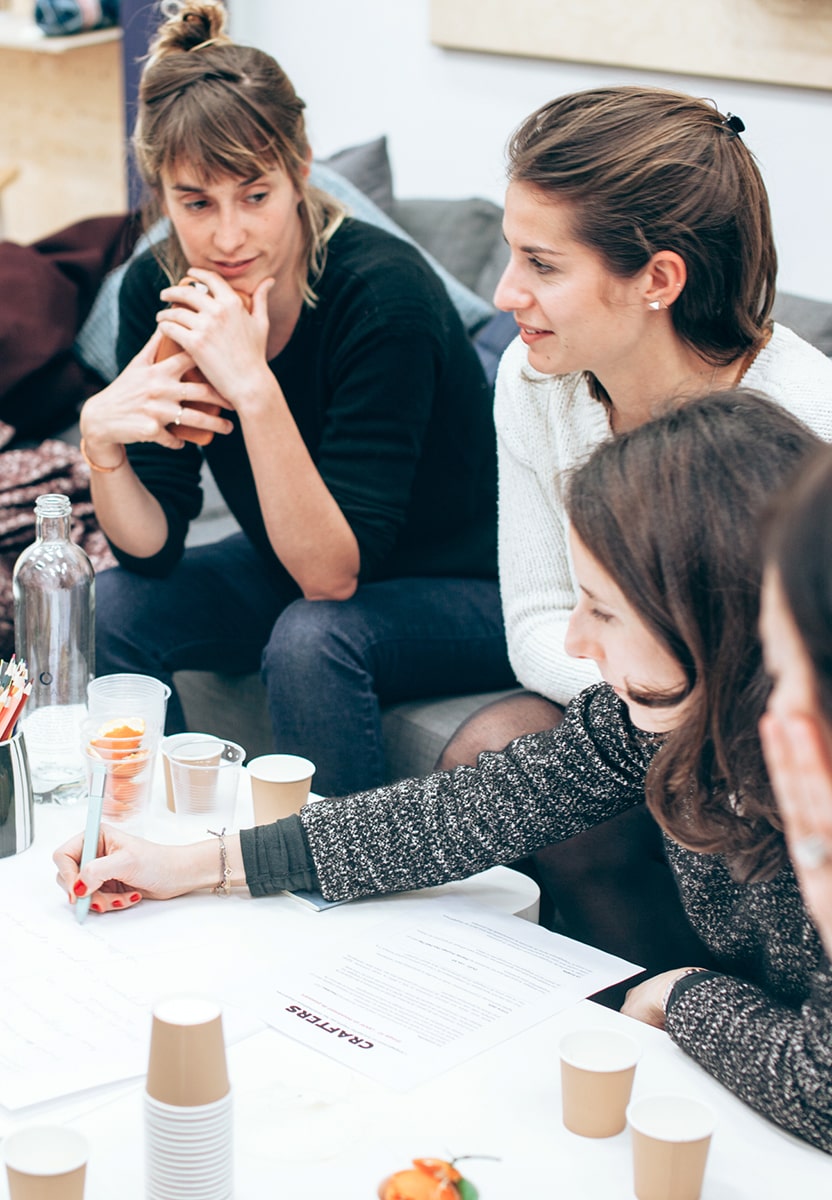 Looking for a different program?

Piscine Program
Understand your market and your users.
Adapt the concept to your clients.
Test and validate your concept.

PÉPITE Startup Île-de-France Program: 6 months to move up a gear
This early-stage project acceleration program, based at Station F, is dedicated to student entrepreneurs,
in partnership with the PÉPITE network and the Île-de-France region.
Starter is a paid early-stage startup incubation program. This program does not take equity. The price of the program is:

2000 euros TTC/Start-up, that is 333 euros/month.
2200 euros TTC through the CPF, Pôle Emploi or the French Tech Visa.

Yes. The price and support of the Starter program is applied per startup or project and not per number of founders.

Our acceleration programs are designed to be available and accessible anywhere in the world.
Whether it's for training workshops or exchanges with experts, everything can be done remotely.

We also organize a monthly "drink" with incubated entrepreneurs and alumni in our Schoolab Saint-Lazare office, 15 rue de Milan 75009 in Paris.
Entrepreneurs can also come to our Schoolbar, a coworking space/Café.

Starter is an incubation program designed for all types of entrepreneurs who are starting their own early-stage startup:

entrepreneurs in transition
students
international entrepreneurs
etc.

It is essential for Schoolab that entrepreneurs come from all backgrounds and all educational backgrounds (business, engineering, design, medicine, pharmacy, psychology, law, journalism, art, etc.) and that they set up all types of startups (tech, social business, art, etc.).
It is fundamental that the startups in our incubator are passionate and have a good understanding of their target market's needs.

The Starter program lasts for 6 months. There are 2 sessions per year.
The first session starts in May.
The second session starts in November.

Fill out the application form.
Applications are reviewed by a selected jury.
You are made aware in the next few weeks if you have been selected.
A dedicated team member gets you through all the documents and payments.

Personal Training Account (CPF).
Pôle emploi (with the help of your advisor).

No. However, our café "Schoolbar" always welcomes entrepreneurs who wish to work there during the day.

Additionally, Schoolab offers office space for rent to entrepreneurs who wish to do so. With this in mind, access to office space is to be added to the cost of the Starter Accelerator program coaching. 💡
If you are interested in an office at Schoolab, please mention it during your application process.

🍺 Finally, we host monthly meetups with entrepreneurs from our programs every first Wednesday of every month. A great time to meet the Startup community.

Access to a community of over 1000 entrepreneurs, alumni, experts, etc.
6 months of training leading to a certification, eligible for the CPF.
1 hour/month of individual coaching.
Daily support provided by the program's referent.
+70 hours of training content.
+6 thematic workshops/month led by an expert.
+40 individual meetings/month, proposed by an expert in a specific field.
2 sessions/month of collective intelligence between entrepreneurs.
+10,000 euros in savings on the software most used by start-ups.

Yes, we will send you an invoice that you can deduct from your expenses once your business is created.

The mentors and experts of the Starter program are successful business entrepreneurs. They understand the issues of an early-stage startup. The Schoolab mentors and experts will help you with your strategy and in your decision-making process, and can also open up their network.