The benefits of the CPI (Creation of an Innovative Product) Normandy program
Develop your company's brand
Establish a link with students in Normandy who are oriented towards innovation and looking for their future jobs.
Imagine and develop innovative projects
Your team and the students' team work in co-creativity on a problem of your choice.
Train your employees with new methods
Focused on digital and No Code, this program proposes a vision based on value creation centered around the customer.
Make your organization evolve
Train your employees in agile methods and digital projects.
The partner schools of the CPI Normandy program:
Launch your innovative service or product with students from Normandy
CPI Normandie is a student innovation program based in Normandy.
Launch a new product or service thanks to multidisciplinary students supervised by coaches and experts. The multidisciplinary nature of the students allows them to take into account all the facets that guarantee its success: design, validation of use, business model, and legal aspects.
Projects submitted by partner companies can be internal (e.g. improved organizational efficiency) or external (e.g. creating a new offering for a new market segment).
locations
Programs in Normandy from the MoHo
Schoolab operates programs in Normandy from MoHo, an iconic location in the heart of Caen. MoHo brings together people from all over the world all year long: students, researchers, startups, employees of small and medium-sized companies as well as large corporations, and members of the public. The common goal is to collaborate and live together to invent tomorrow's world. MoHo will be the first "COLLIDER" in Europe and is on the way to becoming a global reference.
Learn more about moho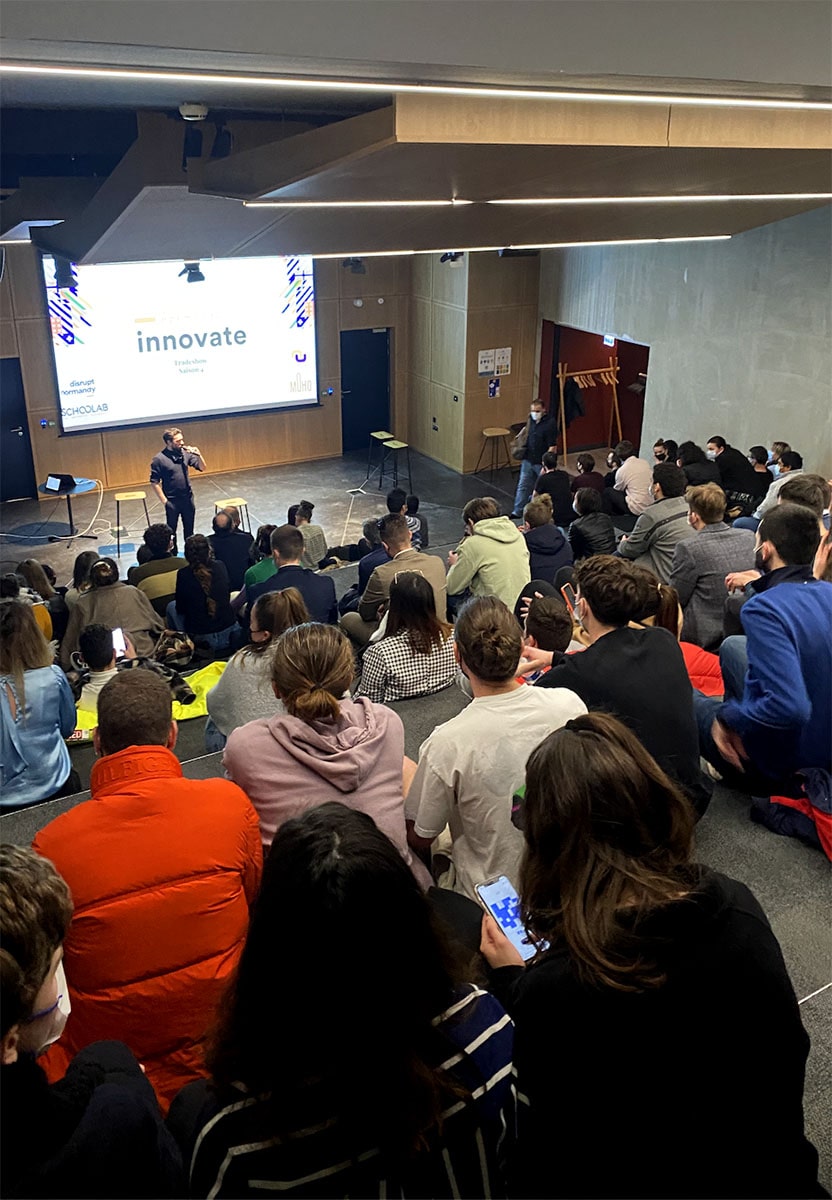 3 methodologies
Design Thinking
A methodology that puts the user at the center of the entire process with the aim of building solutions that meet real needs identified during the user observation phases.
Lean Startup
A methodology that emphasizes the importance of building your product, step by step, testing it continuously to know whether to pivot or persevere.
Open Innovation
Thinking about innovation and R&D by integrating collaborators from outside the company. The goal is to create an ecosystem that relies on different expertises and knowledge.
cpi normandy program in video
Supporting student communities with the Schoolab digital platform
Applications
Public page presenting the program. Customizable participant registration and project submission forms.
Communication
News wall. Newsletter scheduling. Automatic notifications and reminders.
Selection
Jury evaluation session (scorecard). Public voting (likes).
Pathways & Resources
Sequenced collaborative workspace. Modules with a deliverables repository. Resource library.
Coaching
Connecting mentors. Coaching session reporting. Integrated video and chat.
Piloting
Content management rights and access. Real-time tracking of engagement. Deliverable statistics and Net Promoter Score.
A collaborative French digital platform, available as a white label and compliant with the IT requirements of large companies: dedicated infrastructure, high-level security, data protection (GDPR).